Welcome to Sunset Eastern Animal Hospital
Reception Area
We welcome tours of our facility at any time. We believe our "open door" policy (our clients can visit their pet just about any time) and our commitment to client satisfaction and communication sets us apart from the rest.
One of our friendly receptionist will greet you and are happy to help you with your appointment scheduling, checking in/out, and prescription refill needs.
Waiting Room
We do our best to minimize wait times in our lobbies and our exam rooms by scheduling appointments. We understand that visits to a veterinary office can be stressful for pet owners as well as patients, and that your time is valuable.
We carry a full line of Purina Veterinary Diet formulas to best fit your pets nutritional needs.
Exam Room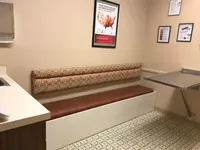 Our exam rooms are completely equipped for comprehensive physical exams as well as client education. We believe that education is one of our primary responsibilities. We have a large selection of client handouts on almost every subject, anatomical models and other visual aids for various conditions. We are strong believers in preventative care. We strive to show everyone how to provide routine care for their pet including brushing their pets teeth, cleaning their ears, trimming their nails, and any other maintenance things your pet may need.
In-house Laboratory
We have many pieces of sophisticated equipment in our in-house laboratory. We can perform an analysis for your pet in just a few minutes. We also send samples out twice daily to one of the largest veterinary labs in the country that has a huge network of specialists to advise us.
Our well equipped lab allows us to run preoperative bloodwork and other testing the same day.
Treatment
Our treatment room is clean, quiet and up to date to treat your pet safely. We keep all our sick or hospitalized patients, and our surgery patients in here so that we can keep a constant eye on them. We have every thing a human hospital would have to help support your pet during a time of illness.
Surgery Suite which is well equipped for any surgery.
For all anesthetic procedures, we have make sure that every pet is treated with safety with intensive monitoring equipment (just like a human hospital) and safe anesthetics. This provides for the quickest recovery possible for your pet and makes for a more comfortable recovery process.
The doctors when in a surgery are using sterile instruments with every pet and wearing necessary sterile gowns, gloves and masks to protect the health of your pet during surgery.
We keep your pet warm during and after surgery, so that they recover faster and have less chance of post-operative complications.
Dental procedures are performed on both cats and dogs with ultrasonic scaling performed to remove plaque followed by polishing and sealing of the teeth. Dental digital x-rays can be taken of diseased teeth or as a preventative measure to detect early signs of bad teeth. Picture to the right shows a dental cleaning with a dog under anesthesia and the dental x-ray machine over the dog.
Radiology
We have an x-ray room complete with an digital processor so we can take and develop radiographs quickly.
We also offer ultrasound diagnostics for our patients with our ultrasound/telemedicine module.
Boarding
Cat and dog boarding in seperate areas of the clinic.
Cat condo shown in the middle picture and available in multiple configurations: double, triple and 4 condo options.
Dog boarding shown in picture on the right and left with runs for larger dogs not shown in picture and varying size kennels for smaller dogs. Each dog is walked 3 times daily and supervised in our exercise pen. Each dog is also fed 2 times daily with Purina Veterinary Diet food or food of your choice.